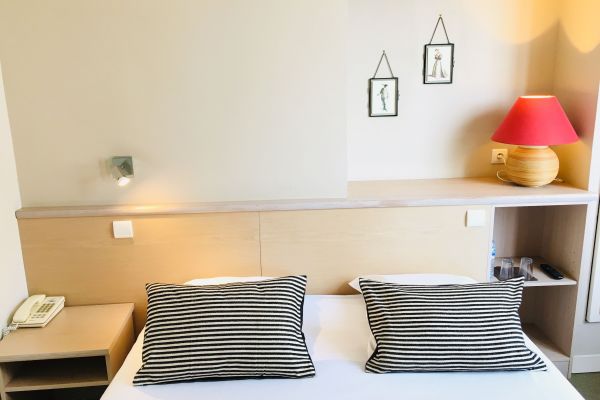 The Brit Hotel du Parc welcomes you for a cosy stay in the lovely city of Dinard, on the Emerald Coast.
Ideally located in the center of the city and only 400 meters away from the beach, our hotel is decorated with style and has a warm atmosphere.
The reception is open from 7:30 to 12:00 and from 15:00 to 21:00, and our team is there to answer any questions you might have.
If you arrive by car, note that it is possible to park for free and easily on the street next to the hotel. We also have a closed and secure parking for bikes and motorcycles.
Our Dinard hotel has 19 comfortable and fully equipped rooms. Be sure to find just what you need whether you come alone, or with your friends or family. Our hotel has single, double, triple, standard or comfort rooms…
All of our rooms have a private bathroom with a hair dryer, a telephone, free Wi-Fi and a flat screen TV.
Each morning, wake up to a delicious breakfast with a wide range of fresh and local products. We carefully select each product that we serve and try as much as we can to shed light on local producers to ensure you a unique culinary experience!


Breakfast
€8,80

Check-In
15h

Check-Out
11h
> See the amenities

Night watchman

Opening hours of the receipt : 7h30 à 12h - 15h à 21h

Check-in

Check-out

Bar

19 rooms

Phone

Télévisions
Bathrooms

Hairdryer

Free Wifi

quality Tourism
Home Cycling

Bank checks

Holiday vouchers

Carte Bleue

American Express

close

Partner restaurant

1 Room (s) seminar

20 Max capacity

Breakfast Buffet : €8,80

Stopover : 75/80
Many restaurants are open near our hotel for dinner and lunch, so don't hesitate to ask for tips at the reception desk. Our staff will be happy to tell you more about the best restaurants in town!
If you're looking for a place to host a seminar, a meeting or a training session, the Brit Hotel du Parc is just the place you need with its two meeting rooms that can easily adapt to your needs.
Make the right choice and pick our Dinard hotel!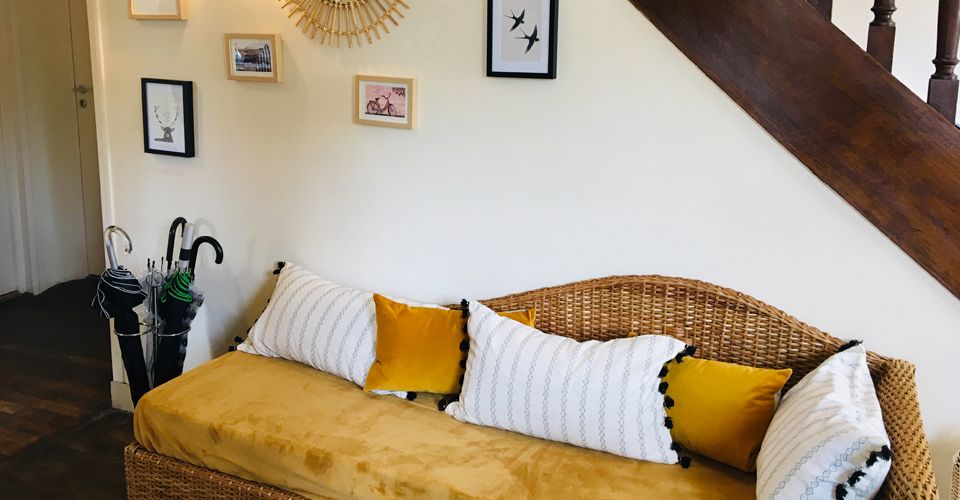 The reviews
of our customers
Relaxing, friendly comfy stay

Hotelier's response :
Merci pour ce commentaire très positif, revenez quand vous voulez :) Clotilde, Flore, Fabiano et Pierre
Read more
Gorgeous, very central, good breakfast and atmosphere in the hotel! Staff very helpfull and simpathy

Hotelier's response :
Thank you so much for you kind feedback. Do not hesitate to come back. Flore, Clotilde, Fabiano & Pierre
Read more
I am sure that you will know that I left my ring in the bathroom !! It was my mistake…but I knew exactly where I had left it … I am not pleased that your policy is to leave staff go home with what they find in the rooms !! This policy is open to abuse & is not professional … I know that your cleaner has a key to the office… why was my ring not left somewhere safe ? … The man that I spoke to said that "it was not in the room" & that he would have to try & get in touch with the cleaner…I am grateful to you that it was found but It should not have been left for a cleaner to take responsibility … IT IS THE HOTELS RESPONSIBILITY

Hotelier's response :
Hello, Thanks for your review. I'm really sorry for what happened. I spoke with the cleaner. She tried to call me but I was out of town for a meeting. We have a safe but she didn't have the key so she decided to gome home and wait for my call. When I call her she came in 5 minutes and I call you. We have a small hotel and I ask all my staff to take responsibility when something happen. We trust our staff. It's not because you're a cleaner that you can't take responsability. The cleaner tought she did well but of course she made a mistake. I just remember you that we gave it to you on time and we saved your trip. Maybe you could just say thank you...? Regards, Pierre de Kerautem, the owner.
Read more

Hotelier's response :
Thank you very much for this good opinion. :) Magali, Flore, Fabiano & Pierre.
Read more
I would like to thank the staff for helping me sort out a problem which arose through my inability to respond to an important message due to not having a mobile phone! I really did enjoy my stay at the Brit Hotel and would certainly use the same hotel in future visits to Dinard.

Hotelier's response :
Thanks you very much for your nice review. We would be enjoyed to see you again. Magali, Flore, Fabiano & Pierre.
Read more
The hotel (and Dinard!) has a central position with respect to several key spots in Brittany. The hotel reception was very helpful in directing us. Free parking space is available. The room and the bathroom were convenient and spacious.

Hotelier's response :
Thanks a lot for this very good review. We will enjoy to welcome you next time. Magali, Flore, Fabiano & Pierre
Read more
Good quality, good price & excellent hospitality

Hotelier's response :
Un grand merci pour ce très bon commentaire. Au plaisir de vous revoir, L'équipe de l'Hôtel du Parc.
Read more
Friendly, efficient, will visit again.
Perfectly happy, no need for improvement.
Read more
Rachel Baines
Very comfortable bed and room . Great location and very welcoming and helpful staff. Had a wonderful stay .
Read more